Old wood

A broken part of something larger. Perhaps Elena knows more?
Vital statistics
Type
Gift
Effects
Seems familiar to Elena if given to her...
Source
Found on the third floor of the Centrum
Cost to buy
N/A
Sell price
 ???
This piece of
old wood
can be given to
Elena
after completing the game, raising affinity by two fully segments, being the gift that raises affinity the most. When you give it to her, she will state that it seems somehow familiar. This item is 
unique 
and can be obtained only once in the entire playthrough, no matter how many times the Centrum is visited.
Part of something larger...
Edit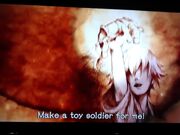 This old wood was actually once one of the legs of Ruben's toy horse. After Ruben's death, his mother (later Zeron) had only this to remember him by. The old wood is the only piece that findable through the ages.
Depending on when you give it her, Elena will either find it vaguely familiar or she will somehow recognize it stating that it belongs to "someone else memory" and she will take good care of it.
Ad blocker interference detected!
Wikia is a free-to-use site that makes money from advertising. We have a modified experience for viewers using ad blockers

Wikia is not accessible if you've made further modifications. Remove the custom ad blocker rule(s) and the page will load as expected.