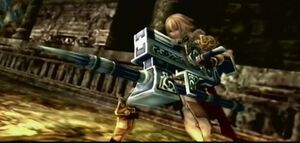 Heavy artillery made for sieges, it wipes out foes in the vicinity.
- In game description
The Explosive Stake is a large weapon that can only be obtained from the Sheerdrop Spire using the Crimson Key. Since the Crimson Key can only be bought after completing the game, it can't be used for the majority of the game. It is extremely slow but very powerful. It can only make two attacks in a combo.
Base attack: 240
Base defence: 150
Ad blocker interference detected!
Wikia is a free-to-use site that makes money from advertising. We have a modified experience for viewers using ad blockers

Wikia is not accessible if you've made further modifications. Remove the custom ad blocker rule(s) and the page will load as expected.